The family of Martin Luther King Jr has called for the passage of a law to protect voters from racial discrimination, while the vice-president, Kamala Harris, said the right to vote in the US was 'under assault'. As part of the annual MLK Day peace walk, the King family and more than 100 national and local civil rights groups strode across the Frederick Douglass Memorial Bridge urging the Democrats to pass the bill in the US Senate
Continue reading...
---

Martin Luther King Jr was a walking, talking example of everything this country despises about the quest for Black liberation
Every year, on the third Monday in January, America hosts a Sadie Hawkins-style role-reversal where the entire country pretends to celebrate a man whose achievements and values they spent the previous 364 days ignoring, demonizing and trying to dismantle. Today, your favorite vote suppressors will take a brief respite from disenfranchising Black voters, denying history and increasing inequality to celebrate a real American hero.
That's right, it's MLK Day!
Continue reading...
---

'Dr King knew that economic injustice was bound up in the larger injustice he fought against,' says treasury secretary
The treasury secretary, Janet Yellen, marked Martin Luther King Day with a speech acknowledging that the US economy "has never worked fairly for Black Americans or, really, for any American of color".
Interpreting the late civil rights leader's I Have a Dream speech, Yellen said: "Dr King knew that economic injustice was bound up in the larger injustice he fought against."
Continue reading...
---
Some historic Black churches in the United States are set for demolition or struggling with inadequate funding. Now, a major donation launched on Martin Luther King Jr. Day will help them rebuild so that their congregations can continue to share their stories.
---
In a Martin Luther King Jr. Day video speech, President Joe Biden called upon Americans to stand up for voting rights. But Mr. King's eldest son criticized Mr. Biden and Congress for failing to pass voting rights legislation.
---
Today is the federal holiday that honors Dr. Martin Luther King Jr. He was born January 15, 1929. He was assassinated April 4, 1968, at the Lorraine Motel in Memphis, Tennessee. He was just 39 years old. While Dr. King is primarily remembered as a civil rights leader, he also championed the cause of the poor and organized the Poor People's Campaign to address issues of economic justice. Dr. King was also a fierce critic of U.S. foreign policy and the Vietnam War. We play his "Beyond Vietnam" speech, which he delivered at New York City's Riverside Church on April 4, 1967, as well as his last speech, "I've Been to the Mountaintop," that he gave on April 3, 1968, the night before he was assassinated.
---
As the United States heads into the Martin Luther King Day holiday weekend, attempts by Democrats to pass major new voting rights legislation appear to have stalled. We examine the new award-winning documentary "Who We Are: A Chronicle of Racism in America," which follows civil rights attorney Jeffery Robinson as he confronts the enduring legacy of anti-Black racism in the United States, weaving together examples from the U.S. Constitution, education system and policing. "The entire purpose of this film is to ask people to take a long hard look at our actual history of white supremacy and anti-Black racism," says Robinson, the former deputy legal director of the American Civil Liberties Union. "That is something that has been really erased from the common narrative and creation story about America." We also speak with Emily Kunstler and Sarah Kunstler, the directors of the film.
---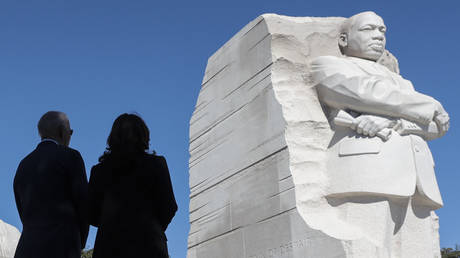 US President Joe Biden marked Martin Luther King Jr. Day with a speech linking the civil rights leader's efforts to unite Americans to his own party's voting rights legislation, all but dismissing those against it as racists.
Read Full Article at RT.com
---
A number of events are planned across Los Angeles to celebrate the legacy of the Rev. Martin Luther King Jr.
---
Martin Luther King Day marks more than just a dream for the U.S. King saw a global fight for democracy.
---
Martin Luther King, Jr. lamented the slow pace of change in a world in which law enforcement officers beat Black Americans with impunity. Many of the circumstances have changed, but we're still dealing with the same problem and the same foot-dragging pace.
---
Martin Luther King's conception of what Black Americans had to overcome was shaped by visits to Detroit that began when he was a teenager.
---
Members of Martin Luther King Jr's family joined marchers Monday in Washington urging Congress to pass voting rights reform as the United States marked the holiday commemorating the slain civil rights leader.
---
On Martin Luther King day, Americans honour the civil rights activist. It was recognised as a federal holiday in 1983. Decades after icon's death, voting rights are under threat. An ongoing campaign to expand voting rights legislation and restore full power of the Voting Rights Act of 1965 is receiving a massive mobilisation. Kethevane Gorjestani and Matthieu Mabin report.
---